NEXT SHOW
SUNDAY, AUGUST 17

ALL AGES!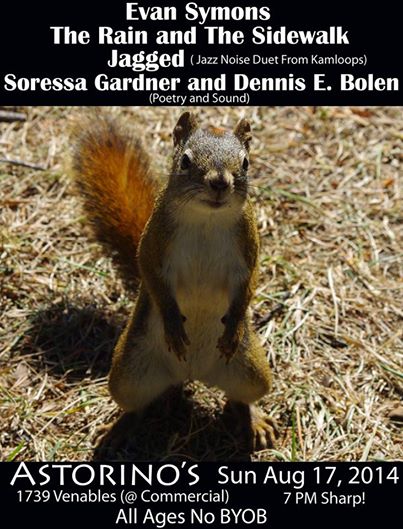 with

EVAN SYMONS
JAGGED
SORESSA GARDINER and DENNIS E. BOLEN

at

ASTORINO'S

(1739 Venables, Vancouver)
click on poster for details


PAST SHOWS

Saturday, June 15th

Picnic Time Vol. 4...
Trout Lake
Vancouver
Also featured:
The Ruffled Feathers
http://www.theruffledfeathers.com/


---


Square Sun
http://squaresun.bandcamp.com/


---


Cult Babies


---


Tim the Mute
http://scoutmagazine.ca/tag/tim-the-mute/


---


Distant Music


---


Ryan (of Collapsing Opposites)
http://www.collapsingopposites.com/

---

Enzio Verster (of Half Chinese)
http://halfchinese.bandcamp.com/


---


Kids Who Miss


---


Pedagogues
http://pedagogues.bandcamp.com/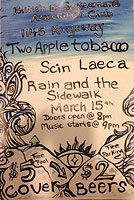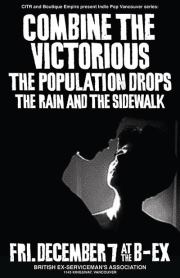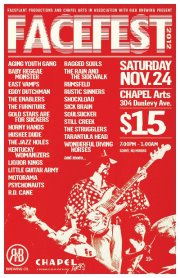 FACEFEST 17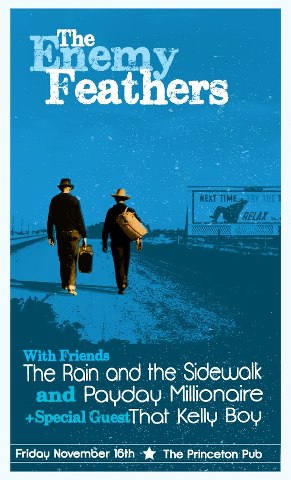 FRIDAY, MARCH 23
@ British Ex-Servicemen Association
THE RAIN AND THE SIDEWALK
with

No Band
Pedagogues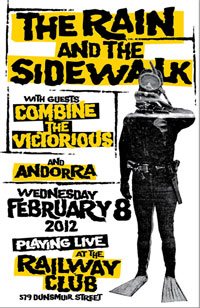 February 18, 2011
Payday Millionaire (CD release!)
Red Hot Icicles Burning On Fire
The Rain and the Sidewalk
The Enemy Feathers
Calvin Don't Jump
Half Chinese
Bodies

Blim Artspace
(Vancouver)
November 19, 2010

Evan Symons
The Rain and the Sidewalk
The Red Hot Icicles Burning On Fire
Lengthy List of Lovers
The Princeton
(Vancouver)
Saturday, September 25
FACEFEST 15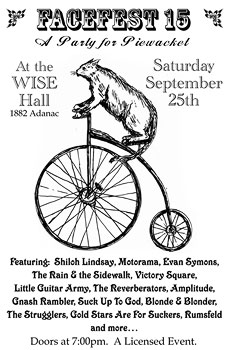 Little Guitar Army
Surf Messiahs
The Rain and the Sidewalk
Evan Symons
Stupid Fucking Dinosaurs
Gnash Rambler
Suck Up to God
Amplitude
Gold Stars are for Suckers
Shiloh Lindsay
Victory Square
Blonde and Blonder
The Reverberators
WISE Hall
(Vancouver)

2014

NEW RELEASE
The wonderful people from Donkaster Elektronische Freundschaft in Yorkshire, UK have released a new compilation entitled Sea, Sun, Synth and Sand; 14 coldwave/synthpop songs from inventive artists in the UK and elsewhere.

And TRatS' song Hollow is on it (our first international appearance)


It is a free download on bandcamp
but a limited number of lucky ones received a CD copy when they attended the first anniversary of the D.E.F. club night at the Vintage Rockbar in Doncaster, UK on July 19th.

It's already getting support from Canadian and UK college radio (who have always been great to the project - thanks)!

Lots of great artists on this comp: Rosssetti's Compass (with members of Attrition and Apoptygma Berzerk!), Jan Doyle Band, The Webb, Izzie Voodoo, and (Nelson, BC's own) Meter Bridge, just to name a few...

RADIO SUPPORT NEEDED - REQUEST TRatS

NEW STATIONS


INDIE XL (AMSTERDAM, NL) PLAYLISTED 6 WEEKS!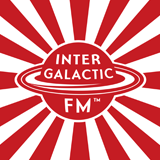 INTERGALACTIC FM (THE HAGUE, NL)

You can also now request the new Life in a strange new room EP, Stuck EP and other releases from many local college stations in
UK, BELGIUM, FRANCE, NETHERLANDS and GERMANY
as well as
CiTR, CJSW, CJSF, CFUV, CFBX, CKXU, CHLY, CJSR and more
Most of these stations stream globally, so you can listen from wherever you are;
You can also TWEET them!

'New' Video for Hollow

This is a slight re-edit of the original video, which featured a
live performance of the song.
The video is now synced up to the recorded version of the song.
The original video is still there if you want to compare.

NADIR
The new album is almost complete!


More Radio Play!
THe EP has been played in the UK (Doncaster's SINEfm) and Canada already, and has charted #10 on Canadian station CITR-FM week of Feb. 25th!

January

NEW EP
A FREE EP of Covers for Christmas!
Life in a strange new room
(Fairy-tales in a beautiful garden)
The obligatory covers e.p.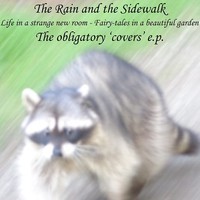 Trevor covers Joy Division, Thee Ahs and Judas Priest!
d/l or listen for free on Soundcloud

PLUS
Selektor's remix of TRatS' cover of The Organ's It's Time to Go!


2013

More Airplay in the UK!
Outside of Red played this time in Yorkshire!
http://www.mixcloud.com/Youthenightandthemusic/you-the-night-the-music-062/

Trevor Joins Scin Laeca

Scin Laeca is extremely happy to announce that we've added Trevor Thompson to our band. Trevor is an excellent guitarist, keyboardist, bassist, and songwriter, and has been the leader of his own project, The Rain and The Sidewalk for many years. Trevor is a perfect fit for us, and has added tremendous depth to our sound. We have been writing a lot of new material with him, and we can't wait to play it live!

(Scin Laeca's announcement on FB)



Playlisted in Belgium!!!
Regret was playlisted on the adventurous radio program KICKS EXTREME RADIO on FM station RADIO CENTRAAL in
Antwerp, Belgium
in November!

More Airplay in the UK!

THANK YOU TO Mat Handley of SINEfm in Doncaster, UK for playing I Came Across No One On My Journey and the TRatS cover of Army Dreamers!

PODCASTs of SHOWS

You, the Night & the Music - Oct 11, 2013 on SineFM 102.6 Doncaster, UK

You, the Night & the Music - Sept 6, 2013 on SineFM 102.6 Doncaster, UK

SELEKTOR REMIX of TRatS

Posted recently on SoundCloud: Selektor's remix of TRatS' cover of
The Organ
's
It's Time to Go
!


Give it a listen!




SOUNDCLOUD


Thank you to all the hundreds of new fans that have listened to the band through SoundCloud!
Last weekend there was a huge surge in listens, even more than before!

The grrrabbit producitons soundcloud page is where
you can download the Stuck EP and other TRATS songs.

Trevor has also set up a dedicated TRATS SoundCloud page (http://soundcloud.com/the-rain-and-the-sidewalk), too.
This is where you will hear the latest songs in progress, plus rarities and live tracks!



UK AIRPLAY!!

REGRET from the WEAKNESS CD has debut in the UK on Nightbreed Radio.
The song is on Piers Sixx's
Dark Frequency
show this month!
Nightbreed Radio is a leading Goth/Darkwave/postpunk radio site.
Dark Frequency March 2013 by Nightbreed Radio
On Demand on Mixcloud
Bloggers, DJs and reviewers: get in touch with grrrabbit productions for play copies, mp3s, etc.!
NEXT SHOW

FRIDAY,MARCH 15th
The Rain and the Sidewalk
Two Apple Tobacco
Scin Laeca!
and maybe a touring guy opening...

@ British Ex-Servicemen Association

1143 Kingsway (Vancouver)
2012

Thanks to all the fans who supported The Rain and the Sidewalk this year!



CiTR and Boutique Empire present
December 7, 2012

Indie Pop Vancouver series
featuring:

Combine the Victorious
The Population Drops

and special guest
The Rain and the Sidewalk
Combine the Victorious
has just returned from their first European tour, where they released their brand new
Crumbling Hearts EP
in Stockholm Sweden. They will be performing songs from that EP as well as a few reworked older songs and personal favorite covers.
http://combinethevictorious.bandcamp.com/album/crumbling-hearts


The Population Drops
are rapidly gaining notoriety in Vancouver with their post-punk sound and underground sensibility. Bridging the style and New York and Manchester, The Pop Drops offer a fresh take on music with social commentary
http://soundcloud.com/the-population-drops/sets/enough-ep/


The Rain and the Sidewalk
is a (sometimes) one man music machine. Trevor creates driving electronic sounds with solid pop music esthetics.
http://therainandthesidewalk.com/

FACEFEST 17
Saturday, November 24, 2012
30+ bands
Chapel Arts 304 Dunlevy Street (Vancouver)
As usual The Rain and the Sidewalk (Trevor solo version) played a short set (among about 30 other bands)...
blurb!
Once again it's time to celebrate the Faceplant creative community. Since 1992 Faceplant studios have provided a top flight rehearsal facility for Vancouver musicians. To many of us Faceplant is more than a roof under which we rehearse; It is a family, a community and an entity that is greater than the sum of its parts. Please join us At Chapel Arts, Saturday November 24th from 7pm to 1am as 25 (or more) of our favorite acts preform for you listening pleasure. With acts from almost every conceivable
genre, Facefest is perhaps the most diverse musical event of the year!
this years bands include:
Aging Youth Gang
Al Doyle
Critter
East Vamps
Eddy Dutchman
The Enablers
Fierce Creep
The Furniture
Gold Stars Are For Suckers
Greg Hathaway
Orchard Pinkish and his Horny Hands
Huskee Dude
The Jazz Holes
The Kentucky Womanizers
Liquor Kings
Little Guitar Army
Motorama
Psychonauts
R.D.Cane
Ragged Souls
The Rain And The Sidewalk
Rumsfeld
The Rustic Sinners
Shockload
Sick Brain
Soulsucker
The Strugglers
Tarantula Head
Tree Tox
Williston Yard
Wonderful Diving Horses


*lineup subject to change




NEW SONGS, NEW PAGE ON SOUNDCLOUD
The new SoundCloud page for The Rain and the Sidewalk:



http://soundcloud.com/the-rain-and-the-sidewalk
Just added - new songs from the forthcoming Album NADIR
Tell your friends - follow and share!

FRIDAY, NOVEMBER 16th
Princeton Pub
Vancouver
with
The Enemy Feathers
Payday Millionaire
That Kelly Boy

JUNE 26
The Rain and the Sidewalk are playing a last-minute early set (8:30 or so) at Displace Hashery (3293 W. 4th Ave) in Vancouver Tuesday, June 26, 2012.
They will be a duo this night as Shannon is in town from Quebec this week - this may be your only chance to see them perform together in Vancouver this year!

JUNE 23
Texada Island
EVANFEST
(as a DUO with Shannon Hallett)

JUNE 9
THE RAIN AND THE SIDEWALK
this time with
Los Furios
and
Two Apple Tobacco
It's a $10 cover this time, because it's a fundraiser to replace equipment and cash stolen from the British Ex...
(As usual there should still be cheap beer, tacos, free pool, and fun times!)
Doors at 7 (I'm guessing the show will likely start closer to 9)
Hope to see you there...
@ British Ex-Servicemen Association
1143 Kingsway (Vancouver)


NEW VIDEO

This is the latest in the video from a live session TRATS did.
It is called IN THE DARK and it is a different version from the one on WEAKNESS
http://youtu.be/dtyKHuHKZfE

IN THE DARK
shot by robotsmakesushi (Mike McLean)
Shot with no lights except the pillars, and seriously messed with.

MAY 18
Here's some footage from the last show (May 18)...
http://youtu.be/iMMUTqxe5zA

Waiting for a Bus

THE RAIN AND THE SIDEWALK
Payday Millionaire!
Red Hot Icicles Burning On Fire...
(Vancouver)


STUCK AIRPLAY
#14 THIS WEEK!
CJSW-FM in CALGARY
(05/01)

charted on CFRC-FM Kingston
and CFBX-FM Kamloops in March/April!

STUCK peaked @ #2 on Vancouver's CiTR-FM Top 30 (02/07/12)!
It's been on the charts for five weeks!


LATEST RELEASE
STUCK
The new EP, featuring new recordings of fan favorites from our live sets!

With covers of
It's Time to Go (The Organ)
Army Dreamers (Kate Bush)
plus new recordings of
Hollow
and
Slow Motion Shattering
Shannon Hallett - vocals
Trevor - everything else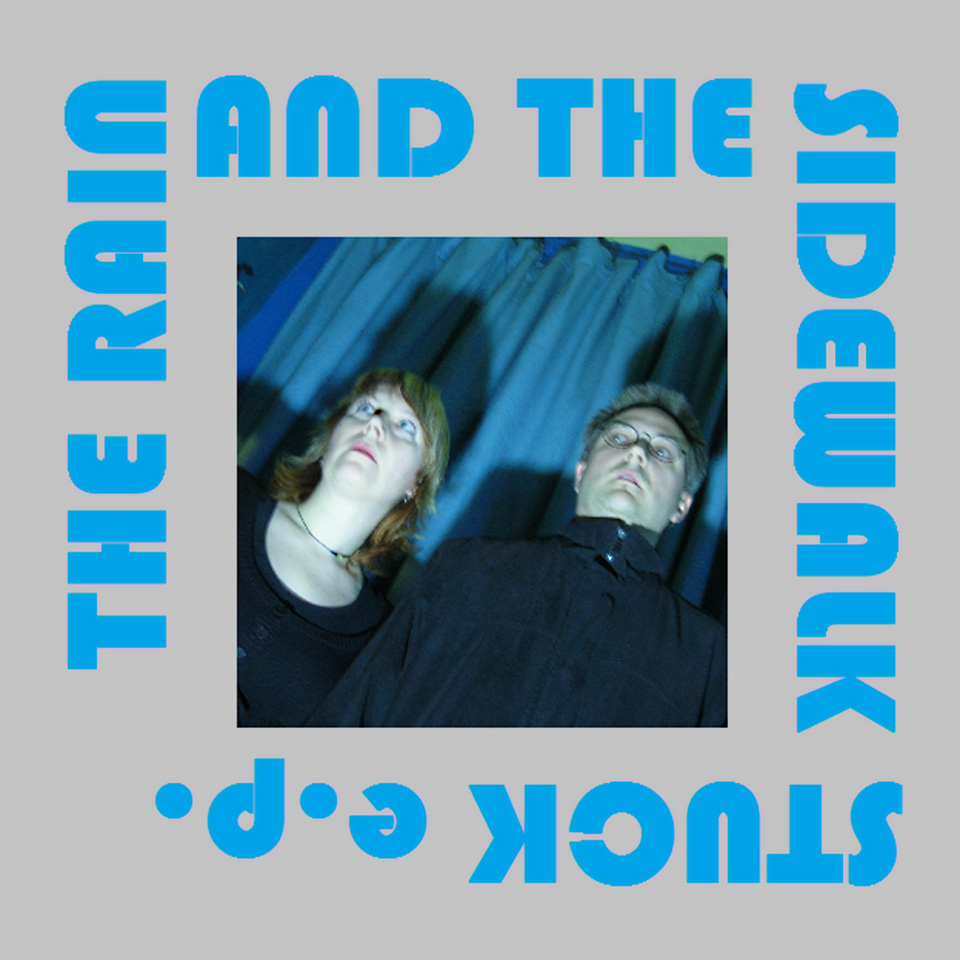 Download it free (zip),
or
listen to/download the songs on SoundCloud

March 23th
at the
British Legion (Vancouver)
with
No Band
Pedagogues

February 8
at the
RAILWAY CLUB (Vancouver)
with
Combine the Victorious
Andorra


2011

VAN MUSIC and CiTR RADIO PRESENT
INDIE POP VANCOUVER SERIES #5
FRIDAY, NOVEMBER 18
@ British Ex-Servicemen Association ,
1143 Kingsway (Vancouver)
contact your cool friend for the exact location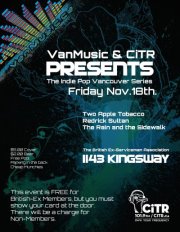 STUCK: coming soon!


FACEFEST 16
SATURDAY, SEPTEMBER 24
@ THE DENTAL LAB and IRON ROAD STUDIOS (Vancouver)
contact your cool friend for the exact location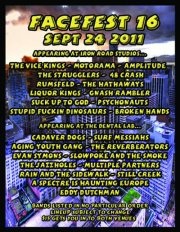 click the image to go to the facebook event page (you'll neeed to log in)
TWO SITES! 29 BANDS!


Hey everyone, just in case you wanted to know, this Saturday (Sept 24th) I'll be playing a short The Rain and the Sidewalk set (first one in months!) at this year's Facefest... $15 gets you into both venues. Sounds like I'm on at around 11ish... although this may change... Official schedule below! - Trev

Dental Lab Set Times:


8:00 - Chris Williams
8:25 - Duotard
8:50 - The Reverberators
9:15 - The Jazz Holes
9:40 - A Spectre is Haunting Europe
10:05 - Eddy Dutchman
10:30 - Still Creek
10:55 - SlowPoke and the Smoke


11:20 - The Rain and the Sidewalk


11:45 - Stupid Fucking Dinosaurs
12:10 - Evan Symons
12:35 - Surf Messiahs
1:00 - Cadaver Dogs
1:25 - The Enablers

Iron Road Set Times:


9:00 - Daily Alice
9:25 - psychonauts
9:50 - multiple partners
10:15 - rumsfeld
10:40 - 48 crash
11:05 - Hathways
11:30 - Broken Hands
11:55 - Gnash Rambler
12:20 - Aging Youth Gang
12:45 - Amplitude
1:10 - Motorama
1:35 - Liquor Kings
2:00 - Strugglers
2:25 - Real Problems
2:40 - Vice Kings
NEW RELEASES COMING SOON
STUCK - this fall
NADIR - Spring 2012

In the meantime, there's some video from their Facefest 15 show (2010) in Vancouver on the VIDEO page...

Spring



TRATS now on BANDCAMP!
The band's albums INANIMATE and WEAKNESS can be bought as downloads from BANDCAMP. We've set it up as a 'pay what you want' above a low minimum.
Added the COMPLETE lyrics for
INANIMATE and WEAKNESS to the lyrics page...

Added video from the FaceFest 15 show last Sept. on the front page.
As you probably noticed...

January/February

Performing again!
(see left)
Got a page on Facebook, too.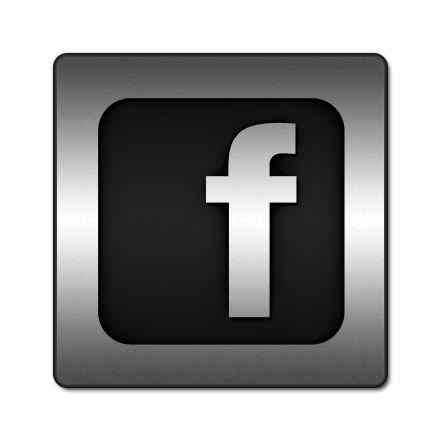 ---
2010
Fall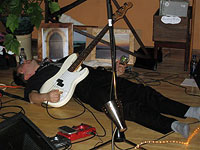 Pictures from the April tour are (finally!) posted on the photos page.

The band is now on SoundCloud. The first song posted is REGRET, they'll be more there soon, too.

Lengthy List of Lovers just added to the Nov. 19 show at The Princeton

Thanks to everyone who came to Facefest 15
NEW VIDEO!

HOLLOW - performed live @FACEPLANT
12.22.2009
VIDEO of Cajun Attic show posted here
(thanks to Doug Ralph of CHUO)

PODCASTof the Ottawa CKCU appearance posted here!
Wednesday, September 22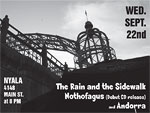 with NOTHOFAGUS
(CD Release!!!) and
ANDORRA
@ NYALA, 4148 Main (Vancouver)
April 13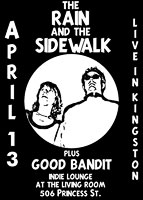 Indie Lounge (Living Room) @
The Mansion
506 Princess St.
Kingston, ON
Friday, April 9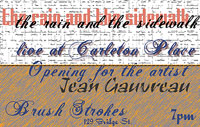 Brush Strokes
Carleton Place, ON
Vernissage/gallery opening
for artist Jean Gauvreau
Thursday, April 8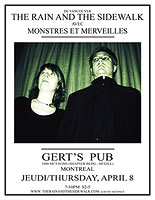 Gert's Pub

Montreal, QC
w/MONSTRES ET MERVEILLES
Wednesday, April 7
INDIEBUZZWERKS present the Indie Attic
Cajun Attic

Ottawa, ON
ZEN BEER
and
THE SONIC DEFENSE
April 3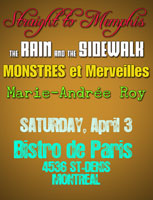 Bistro de Paris
4536 Rue St. Denis
Montreal, QC
w/MONSTRES ET MERVEILLES, MARIE-ANDRÉE ROY, STRAIGHT TO MEMPHIS

Saturday, March 13
appearing with
UNRELIABLE NARRATOR
and
LENGTHY LIST OF LOVERS
Las Brisas

(formerly the Purple Crab)

Vancouver
It's happening the day before Trevor's birthday, so it will be your last chance to see The Rain and the Sidewalk before Trevor gets even more senile :)
Thursday, February 25
with
SADIE HELL
(Ottawa)

SAFETY SHOW
KATASTROYKA
El Dorado

Vancouver
January 9, 2010

a benefit for the Safe Amplication Site Society
Little Mountain Gallery
Vancouver
OK VANCOUVER OK
THE RAIN AND THE SIDEWALK
DIRTY BEACHES
(Montreal, but now based in Vancouver)

KIDNAP KIDS!
2009
December 19

ST. AUGUSTINE'S
with guests
Payday Millionaire
October 2
LIVE on CiTR Radio
part of the 24 hour
THUNDERBIRD RADIO HELL Marathon!
Saturday, September 5th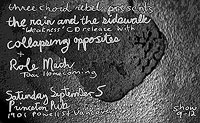 THE WEAKNESS CD RELEASE SHOW
celebrating the our new double CD
with special guests
COLLAPSING OPPOSITES

and
ROLE MACH

at the
Princeton Hotel Pub

Vancouver
Trevor will be performing with Shannon that night!
July 9

Pat's Pub

Vancouver
Trevor solo that night with

EVAN SYMONS
and THE PG13s
(Ottawa)
Saturday, June 6

FACEFEST 2009

34(!) BANDS

Railway Club


Vancouver



Trevor solo that night

April 10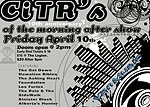 THE MORNING AFTER
Radio Show 10th Anniversary
Grandview Legion(Vancouver) this time as a duo because
SHANNON
is in town

In order of appearance:

The Aching Heart Foundation
Tomgirl
Hunter's Web
The Rain and the Sidewalk
Jess Hill
Michelle Carter Leis
Los Malos
The Get Down
Hawaiian Bibles
Los Furios
and Sinister Black



February 16

Skinny Mondays

the Trevor-solo version of

The Rain and the Sidewalk
Piper Davis
Andorra

The Biltmore


Vancouver



(brought to you by the Skinny Magazine)
Jan 29
the Trevor-solo version of

The Rain and the Sidewalk
Catamaran
MotherSpace

Honey Lounge


Vancouver




January 10
The Rain and the Sidewalk
Johann Holek
Bryce Drohan

Lugz Coffee Lounge


Vancouver

2008

November 13
Down the Lees

CD Release Show
The Rain and the Sidewalk
(Trevor-solo)
Swann Baratt (Wintermitts)
Lise Monique (Wintermitts)
Chris-a-riffic
(They Shoot Horses Don't They)
Joel Tong
(What's Wrong Tohei?, Black Rice)
Lyn Heinemann (Portico)

Hoko


Vancouver




August 10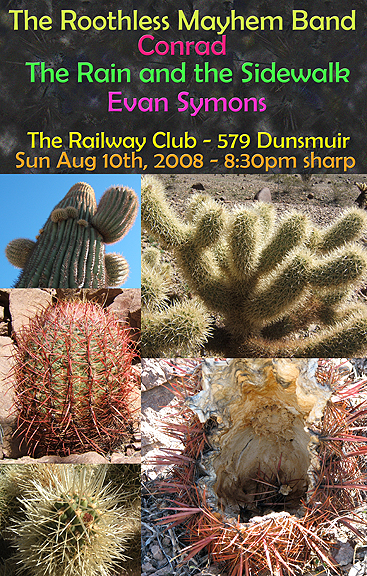 The Roothless Mayhem Band
Conrad
The Rain and the Sidewalk
Evan Symons

Railway Club

Vancouver

May 24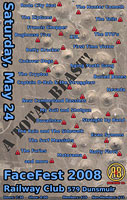 FACEFEST 2008
THE RAIN AND THE SIDEWALK
with 26 other great Vancouver bands!
Railway Club

Vancouver
MAY 9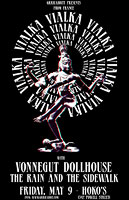 VIALKA
(FRANCE)

VONNEGUT DOLLHOUSE
The Rain and the Sidewalk

Hoko

Vancouver

a grrrabbit production
THANKS to all who came out to Hoko on the 9th!
Saturday, February 23

La Vanguardia de Vancouver
Second Anniversary

Los Malos
The Rain and the Sidewalk
and the dancing beats of
Ramon Flores

La Casa del Artista

Vancouver
March/April
Thanks to everyone @ Carleton Place!
We had a great time and thanks for buying so many CDs.

PODCAST of the Ottawa CKCU appearrance posted here!
Thanks to Charles and Paulo for hosting the band on CKCU last week!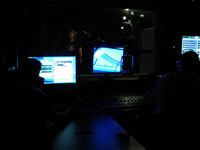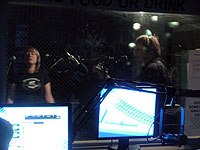 Also, thanks to NDG Entertainment, the other bands and the staff @ Bistro de Paris for having us over in Montreal!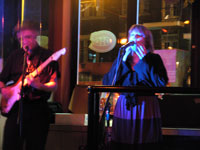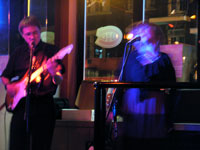 WEAKNESS charted #2 on CHUO's Electronic Charts for most of March!

The CD is now available at
COMPACT MUSIC (Ottawa) and ROTATE THIS! (Toronto)
Also - a video of the band performing live @ FACEPLANT is now posted on YouTube!
APRIL SHOWERS EASTERN TOUR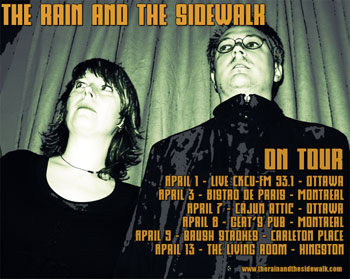 Apr 1
11:00 PM EST
Ottawa
Carleton University
live @ CKCU-FM 93.1's Ottawa Live Music
podcast
Apr 3 9:00 Montreal, QC
Bistro de Paris 4536 Rue St. Denis
w/MONSTRES ET MERVEILLES, MARIE-ANDRÉE ROY, STRAIGHT TO MEMPHIS

Apr 7 9:00 Ottawa
Cajun Attic 349 Dahousie
INDIE BUZZ WERKS presents Live @ the Indie Attic
w/ ZEN BEER(first) andTHE SONIC DEFENSE(third)
Cost: sliding scale ($5 suggested)
Apr 8 9:00 Montreal
Gert's Pub Shatner Building, SS1, 3480 McTavish Street
w/MONSTRES ET MERVEILLES
Cost: $2-5 (sliding)
Apr 9
8:00
Carleton Place
Brush Strokes
129 Bridge Street
Vernissage
/gallery opening
for artist Jean Gauvreau
Cost: free
Apr 13 9:00 Kingston
The Living Room
506 Princess St.
INDIE BUZZ WERKS
presents the
INDIE LIVING ROOM series in the Living Room @ the Mansion
details and line-up TBA
ATTENTION EU Bands and Bookers!
The band is seeking bookings in Europe for a tour this fall.
Please contact grrrabbit productions with availabilities and any help!
January/February
The Safe Amplification Society Benefit on Jan. 9 went really well; raised a goodly sum for the cause (a permanent, legal all ages venue in Vancouver). There's pix here


October/November
Songs from the new release have been sent to college radio across Canada; please request us if you can!

Thanks to everyone for coming to the Purple Crab show last week! The place was full very early, and the show went very well!

WEAKNESS now playlisted on CFBX!

WEAKNESS is back on the CKXU Electronica Top 10 (#5 10/27)
and
on the CITR Top 30 (#30 10/27)

WEAKNESS is now #8 on CKXU Electronica Top 10 (09/29)
and #6 on the CITR Top 30 (09/15)

CiTR's site has podcasts of the band's Thunderbird Radio Hell-a-thon (Oct. 02) up now
http://playlist.citr.ca/podcasting/xml/thunderbirdradiohell.xml
or maybe
http://feeds.feedburner.com/Citr--ThunderbirdRadioHell

September
Thanks to everyone who came to our CD release show! The near-full Princeton (which became a grrrabbit production at the last minute) was treated to xclnt sets by Role Mach and Collapsing Opposites, before TRATS performed. The response was wonderful, and many disks were sold!


The double CD can now be bought through
mcleanrecords for $12 (USD).

March/April
Lots going on...
TRATS was fortuante enough to be interviewed by THE MORNING AFTER's Oswaldo Perrera on March 17th, with Mark from THE GET DOWN to shamelessly plug his 10th anniversary show April 10 at the Legion!

A podcast of the March 17th show is here:
http://playlist.citr.ca/podcasting/audio/20090317-113644-to-20090317-130009.mp3
We're very happy to have a chance to play. Oswaldo has been an enthusiastic supporter of the band for years now.

Shannon's back from Europe (for a couple of months, at least), and will be performing a few songs with TRATS on this show and, (hopefully) on the release show for WEAKNESS.

You can now buy TRATS MP3s online through Soundclick.
Look for songs that will not be released in the physical world and remixes in addition to songs from the CDs.
Click music, or go directly to the Soundclick page here.

WEAKNESS, the forthcoming 28-song double CD, has been mastered at THE HIVE, inching ever closer to being unleashed to the throngs... release date coming soon...
---
November
Hey all, a few things in TRATS-land you might want to know about...

First of all, the Trevor-solo version of The Rain and the Sidewalk will be performing a short set at Down The Lees' CD release show... (see details on the left)


Free music
You can now download our Redundant EP for free
(minus the nifty cover) on the music page.

Of course if you're the sort who prefers a physical copy, fear not! We still have some of the (limited edition) cd version available for $5, and will have some available at the show...

The next CD by The Rain and the Sidewalk
In case anyone is curious our next CD (currently titled Weakness) is pretty close to completion (and, who knows, might even be available by some time early next year)

At this point it looks like Weakness will probably be a double CD including such songs as
Hollow, Smoke Signals, That Water Fountain Spoke To Me, Misguided Dream, Repulsive Pining, In A Moment Of Weakness, Inane Pining, Adjust The Dial On The Windowsill (I've seen this one before), You Look Like You've Been Through, Abrasive Candy, Regret, Failures, Identity Crisis (quartet for guitar, bass and tape loop), Playground For Your Thoughts, Did I Never Look Into Your Face?, Hit My Head, I Walk Around The Block Three Times Before Going In, Rejected, The Entire Fucking Universe, Idiot (the self-loathing song), Church Window (I threw a bottle), Drunken Ramblings, A Solitary Soul, In The Dark, Comedy Sketch, Monster, Attack Of The Ska Dogs, Outside Of Red.
(the track listing is subject to change without warning or reason of course :-)

that is all.

April
We've compiled those remixes of the songs from Inanimate on a new CD! It's called the Redundant EP.

A limited edition of 50 copies is now available for $6 at shows (like the upcoming May 9th show at Hoko's), and soon from McLean Records. We're also going to put up a free version soon.

Features the following songs:
The Bus Song (edit)
Resurrection (dance mix)
Tonight We Are Standing On The Edge Of The World (unintentionally silly mix)
Slow-Motion Chattering
Hallucination (extended)
Malibu (burnt-out mix)
Lifeless (machine mix)
Wake Me When It's Over (artistically irrelevant party mix)
Twisted Sunshine (broken mix)
Resurrection (emotional mix)
mastered by Stuart McKillop at the Hive
The physical version comes in a fold out cover designed by Trevor and executed by Mike McLean

(Now, if someone out there has been paying attention they might be wondering, "Harrumph! What happened to the Diversion EP that Trevor was talking about some time ago?" Well, the Diversion EP was going to contain the Inanimate remixes as well as a few other "unreleased singles" and odds and ends like Abrasive Candy, Outside of Red, Journey to the Ether Landscapes, etc., but Wayde pointed out that having remixes and non-remixes on the same CD is just plain evil.

Then Trevor also realized that 78 minutes was a bit too long for an EP...

So the remixes wound up on Redundant instead, and the other songs will likely wind up on the next CD (maybe a double CD), current working title "Weakness".)

In other news, it looks like Arsenal Pulp Press is going to re-print Wayde's book Performance Bond, which comes with the CD that Wayde and Trevor put together, The Reinventing Wheel... More details as I get them!

January/February
oh, yes, right, we need a news update...

Hey, I keep forgetting to mention, the winter issue of
One Cool Word magazine's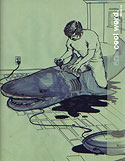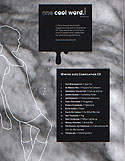 CD includes a new recording of
I Came Across No One On My Journey...
This one's a bit more like the slightly more raw live arrangement,
with Shannon Hallett on vocals this time! (The CD also contains tracks by The Wintermitts, In Medias res, Greenbelt Collective and more)
One Cool Word is available at various record stores
and book stores around town, be sure to check out their site (http://www.onecoolword.com) for more info and to buy it...

More recently, many thanks to Oswaldo for having us perform at the second La Vanguardia anniversary party.
As usual we had a blast. Many thanks to everyone who came out (and cheers to everyone who helped us out)!


---