booker/media contact for The Rain and the Sidewalk
grrrabbit productions
email grrrabbit(@)hotmail(dot)com

NEW Twitter: @grrrabbitmusic

TRATS on Facebook
TRATS on Soundcloud
(this is where new songs will be previewed, and more)

grrrabbit on Soundcloud
(here you can download the STUCK EP and hear other previously released songs)


To talk to The Rain and the Sidewalk, contact:
therainandthesidewalk@yahoo.ca


other locations:
micepace
sevcom
Radio 3

Press/booker photosheet TIFF, 2M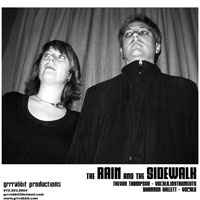 One-sheet (pdf)

Technical Notes for sound personnel (PDF)

TRATS has received such disturbingly gushing praise as:

(from Terminal City weekly):
"...the only guy I know that can actually pull off the Joy Division thing, and he doesn't wear crappy girl clothes like all the other bands along that vein..."
John Cow
"...the Rain and the Sidewalk is fucking brilliant and eccentric the way no one else really is..."
"...The Rain and the Sidewalk...fell down on the floor..."
Jenn Wong

(from Discorder):
"...the guy simply could not sing. His voice was truly atrocious..."
"...His songs were really quite good, and the lyrics were intelligent and darkly humorous..."
Steve Tannock, real live action
"...I felt like I was listening to the cure, but with worse hair. Although it was an extremely entertaining live show...songs began to sound a bit repetitive, or maybe that was just their lyrical focus on 'worthlessness' and 'unworthiness'..."
Sofia Japan, Real Live Action